Woodwind and Brass Lessons
Private Woodwind and Brass Lessons are great for those who want to learn for fun, or prepare for RCM exams. For students in school band, private lessons can greatly enhance not only a child's proficiency, but also interest in their instrument. Private instruction will help them advance faster thanks to the one-on-one attention they usually don't receive in a group band program. Flute, Clarinet, Trumpet, Brass lessons are available for ages 8 or 9 and up, including adults and seniors. Children younger than age 8 typically do not have the lung capacity to handle wind instruments. Music Collection also offers Band Instrument rentals and sales.
Meet our Woodwind Instructors »
Meet our Brass Instructors »
Overview of Private Lessons »
Winds Overview:

| | |
| --- | --- |
| Ages: | 9 and up, beginners and up |
| Start Date: | Any time throughout the year |
| Length: | 30 minutes, hours available |
| Exam Prep: | Available, but optional |
| Locations: | St. John's, Mount Pearl, Online |
| Styles: | Classical, Jazz, Improv, Rock and more |
Woodwind Teachers - Saxophone, Flute and Clarinet
Michael Fagan - Piano, Clarinet
Born in St. John's, Michael Fagan began studying piano at the age of 7. As a student in the music program at St. Bonaventure's College, Michael began playing the clarinet at the age of 9, in later years learning mallet percussion, alto and baritone saxophone, and melodica. After graduating from St. Bonaventure's College in 2010, Michael went on to complete a Bachelor of Music degree from the Memorial University of Newfoundland School of Music in 2014, studying piano under the guidance of Dr. Kristina Szutor. While at MUN, Michael accompanied on piano for the MUN Festival Choir and Wind Ensemble, as well as numerous chamber ensembles, as well as playing clarinet in the MUN Wind Ensemble. Michael later graduated with a Bachelor of Music Education degree in 2016. Michael has also accompanied for many churches, organizations and events across St. John's and the Avalon Peninsula, including St. Teresa's Parish, St. Paul's Parish, the Basilica of St. John the Baptist, the Canadian Bible Society, the Kiwanis and Rotary Music Festivals, and on several recordings with the CBC, MUN Wind Ensemble, MUN Chamber Orchestra, VOWR, and St. Bonaventure's College. Michael has accompanied many choirs, both for schools and professional organizations, including the Philharmonic Choir of the NSO, the Oriana Women's Choir, St. Bonaventure's College, and more. Michael is also active in the community as a freelance pianist for various concerts, weddings, funerals, parties, dinners, and more. Michael enjoys working with his students, and watching them work to reach their fullest potential!
Debbie Parsons - Piano, Flute, President of Operations
Debbie has been with the Music Collection from the beginning. In 2000 she was responsible for the opening of the Dance Corner, a division of the Music Collection, to provide customers with a large selection of bodywear, shoes and accessories for dance, skate, cheer, and gymnastics. As a piano and flute teacher Debbie offers over thirty years of experience. Her music studies were accomplished though the Royal Conservatory of Music and Kindermusik International. Many of her current and past students have received accreditation through the RCM and have successfully performed in the Kiwanis Music Festival. Debbie has taught private students from the age of three to seniors. Group classes for newborn and parents to older teens in junior high and high school. Recently she started a class at Easter Seals for persons with a disability to explore dance through music and free movement. She loves teaching and sharing her love of music with others.
Robyn Stacey - Piano, Saxophone
Robyn Stacey was born and raised in Oshawa, Ontario. She began playing piano at the age of 10, and started playing saxophone in school at 12. From a young age Robyn wanted to be a teacher, and when she got involved in music she decided to work towards becoming a music teacher. She completed a Bachelor of Music at Queen's University with a focus on saxophone and education. Following this, she attended Memorial University of Newfoundland and completed a Bachelor of Music Education. She has spent the past seven years working for the NLESD as a music teacher, and recently as a teaching and learning assistant. Throughout her musical career, Robyn has had many years experience both playing in, and conducting wind ensembles, jazz bands, and choirs. As both classroom and private music teacher she has prepared many students for the Kiwanis Music Festival and a variety of other performances, and her students have had great success. Robyn is passionate about education and music. She understands the importance of quality education and meeting the needs of all students. She has experience teaching music to students from preschool age to grade 12, and is always excited to share her love of music with others.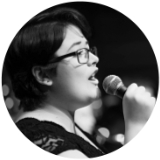 Kristina Bernardo - Voice and Trumpet
Kristina graduated from Memorial University where she received her Bachelor of Music under the vocal instruction of Shelley Neville. Kristina's time at MUN was spent performing with the MUN Chamber Choir, MUN Festival Choir, the Jazz Gals, and the MUN Jazz Ensemble where she was described as singing with "poise, grace and serious power." Kristina also performed with the MUN Opera Workshop playing Tweedle Dum in Will Todd's "Alice's Adventures in Wonderland" and was cast as the Witch in Engelbert Humperdinck's "Hansel and Gretel." Kristina also enjoys singing many different genres including traditional folk, contemporary, pop and rock. She has a love of musical theatre and has performed in shows with Peter MacDonald Productions, Theatre St. John's and Atlantic Light Theatre. Kristina is also passionate about both instrumental and vocal jazz and has been involved with many groups over the years for both. She is currently the vocalist for Jazz East Big Band, and you can hear them perform in many local events around St. John's. Kristina loves music and hopes to be able to share this love and joy with a new generation through teaching in a safe and welcoming environment. Kristina is offering lessons in both voice and trumpet and cannot wait to see your happy faces! Let's make some music!
Laura Chadderton - Trombone, Trumpet, Brass, Piano, Violin/Fiddle
Laura Chadderton is a bass trombonist from Corner Brook, NL. She recently completed her Bachelor of Music (Comprehensive) degree in Trombone at Memorial University of Newfoundland, under the studies of Dr. Karen Bulmer (Dean of Music, MUN) and Cathy Stone (Professor of Low Brass, U of T). She is currently a student of MUN's Bachelor of Music Education program, where she is preparing to teach K-12 music in the public school system. While at MUN, Laura performed with many groups, including MUN Jazz Ensemble, MUN Wind Ensemble, MUN Brass Ensemble, and Paddy Wagon Trombone Quartet. As well as discovering a love for conducting, Laura learned many teaching techniques throughout her post-secondary education, in brass, piano, strings, woodwinds, and percussion. Laura has a passion for teaching others the joys of music and is committed to creating a supportive and fun environment for her students to learn in. Laura is currently offering lessons in brass, piano, and violin, and cannot wait to see your admiration for music grow!
Enabling students a chance to apply their skills in a group, rehearsing and performing together. Inspiring, yet fun and informal. Drumline, Vocal Performance, Rock Band or Ukelele.